It was the day before Labor Day when I received a newsletter from one of my favorite online shopping website, Old Navy. It was also a great opportunity for me to use the rewards I received from them base on using my CC and store credit in order to gain more rewards from them.
The first rewards cost $25 and the second was only $5 that makes it all $30.00. The mall isn't that too long, but my family and I were hardly ever visited the place as we usually don't buy most of our things there.
Anyways, it was perfect that I have also received another discount of 20% off online use only. A great chance for me to use my $30 rewards as long as I have at least $20 more to buy in order to avail the free shipping. You see, I am cheap when it comes to pay the shipment. I would rather use that amount to buy more stuff and gain free shipping rather than buying something and I have to pay the shipment.
Moreover, without hesitation of the great sale labor day event online. I have picked few clothes for my little man, my husband and of course for myself. It reached to the total payment of $54.85. I used my reward $30, promotions are $10.97, handling and shipping are now FREE because my total was over $50.00 which brings my total payment of $13.88.
And paying that amount for 8 pieces of pants, and shorts and shirts together aren't bad at all. It seems like I only paid $1.735 each item.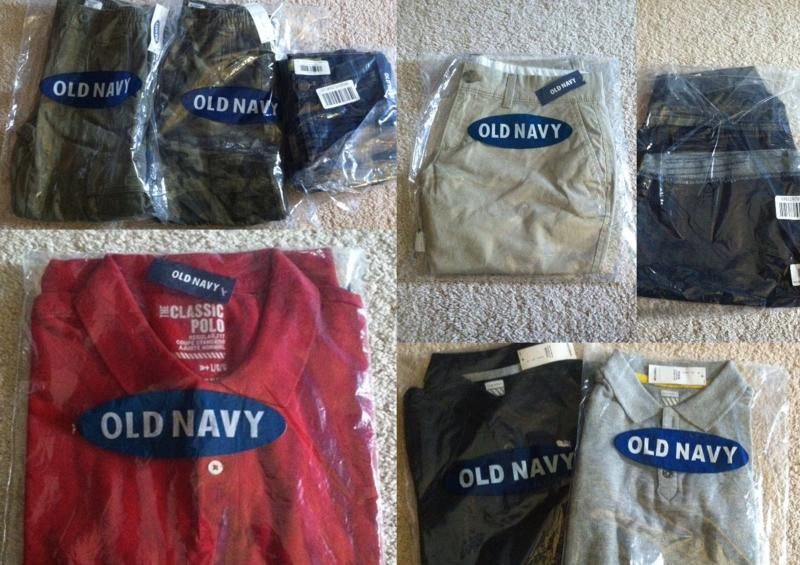 Men's Pique Polo/RED =$6.99
Straight Fit Jeans = $8.00
Twill Pull-On Carg Olive (2) = $16.90
Pique Polos for Baby (2)= $10.00
Women's Twill short = $6.97
Women's The Flirt = $5.99
Thank you OLD NAVY for the freebies, this isn't the first time that I enjoyed their promotions, most of our clothes are from old navy as I love the good quality of their merchandise and it's where I mostly find my right sizes too.