Ahhh...travelling, is what I've always wanted in life. In spite of the fact that sometimes it's a hassle because of the packing and unpacking, however the fun during the trip is what we mostly remembered.
It's what we look forward into whenever we packed those clothes and necessities we have to take with us. I would like to bring extra things rather than ending up one, for I know it's better to have a reserve than none at all. This sometimes could ruin your trip, since I don't mind stacking them in the bag, I've always wished that there will be a light weight bag where I can always use during travel days.
This is what it's look like when you open the luggage organizer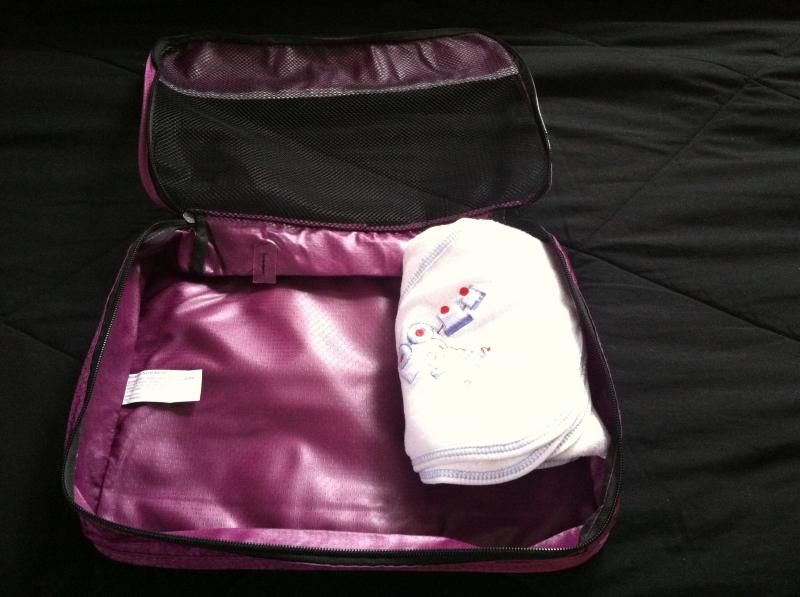 Getting ready for the delivery...
Well, because I never look I could not find any. Until I've finally got the chance to possess one of Dot&Dot's travel bags. I received the Medium Luggage Organizer in the mail. I was very impressed the minute I have it on my hands. What I like about the luggage organizer is that the medium size I received was just right for some important necessities to put in. I can find them right away whenever I need to get it.
Find the right size for your luggage organizer, they came with different sizes and colors you like, I happen to have the
Medium Luggage Organizer
purple one. I love this color as it can be seen so easily, very light, can see through what's inside the luggage and I also like how unique the merchandise. You'll see what's inside right away and that's what I love about cause I would know where to get it when I need it. I used it to put diapers for our upcoming baby, sturdy and the quality of the luggage seems like it's not easy being ripped. The two zippers come handy too, I can open and close the luggage easily.
Overall, I like and adore the product, very handy and indeed will help you organize your luggage quickly. This is also great for gifts for those who loves to travel and would like to have an organized luggage to carry.
I received one or more of the products mentioned above for free using Tomoson.com. Regardless, I only recommend products or services I use personally and believe will be good for my readers.