Acquiring your own power bank is something most people should have nowadays. If you are constantly using your iPad, iPhones, Mobile Phones, MP3/MP4 player and PSP/NDS player this is what you should have with you in your bag. The nice Coosh has a 13,000 mAh high capacity power bank, that would supply more energy for your certain device, I know cause I just got mine.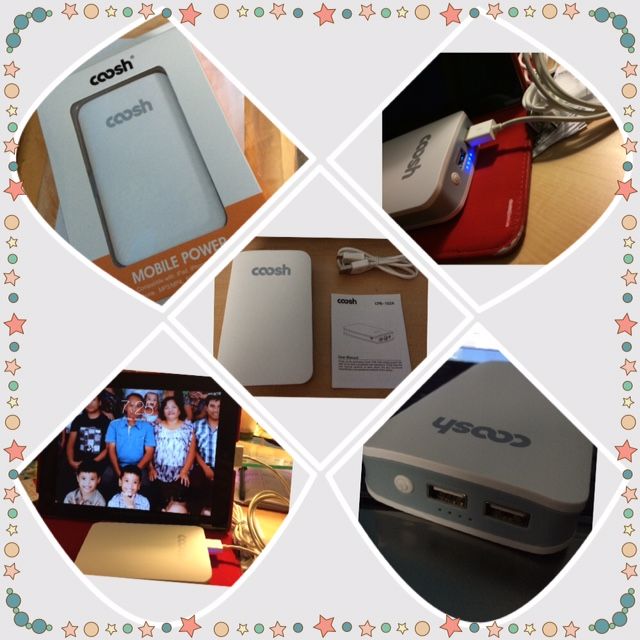 I'm pleased to obtain the power bank at no cost and while using the power bank towards my iPad it seems so suitable, I won't worry if I run out of battery and I'm away from home, as I do have an awesome method of recharging it back.
I received the product in the mail through the FedEx carrier. Very protected and delivered to my doorstep in a sealed bubble wrap envelope. The product is extremely no signs of any shipment break.
Coosh might weight a little bit heavier than I expected, however, it doesn't bother me at all. I admire the white color and the clever design as it is extremely perfect and ideal for hand carry and travel. No other tools needed except for the USB cable which is also included in the product.
Coosh has a Li-ion Battery, with capacity of 13000mAh/48.10Wh. An input of Micro USB 5V/1A and two outputs USB1 5V/1A, USB2 5V/2.1A - max. Its dimensions are 123mm x 75mm x 24mm which I see just the right size for your purse/bag and won't take too much space. And also weighs approximately 277g.
The CPB152B High Capacity Power bank with dual USB output ports is the latest product by Coosh that will be launched in late January of 2015, which is this year.
Features I like about this power bank aside from the fact that it is very useful to recharge my devices are the dual USB output ports. I'll be able to use two devices to recharge at the same time. Its high capacity of 13000 mAh for the multiple device to charge will certainly give me enough power. It's very calm to have an LED battery status indicator to give me a precise estimate of how much power my power bank left. Little that I know that Coosh power bank has an overcharging, overloading and short circuit protection system in it, which I do fine very smart.
There are so many information that you can read and learn about the product in the User Manual that was provided. It's best to read it before you utilize the power bank in order to be knowledgeable enough about the product. The product has already been charged so you can use it right away. Charging my iPad with the device for only 40% left doesn't take a long time to fully charge.
Would definitely counsel this to family and friends who would like to acquire their own power bank. This can be purchased through
Amazon
and compatible with tablet PCs, mobile phones, MP3/MP4, games and more.
UPDATE: Just recently, I've noticed that the powerbank automatically shuts off, if it detects that you turned it on yet you haven't charging your phone properly.
This is NOT a sponsored post, I did not receive any financial amount. I received the products for free in exchange of my honesty review. The outlook I expressed is 100% exclusively mine
.