I can't wait that our sons will be big enough to go on a camping event just outside of our house. Well, our 5 years old might be hopefully this summer with his father in our yard. A good experience for him to sleep outdoors in a tent using camp light, sleeping bag as well as to do outdoor stuff.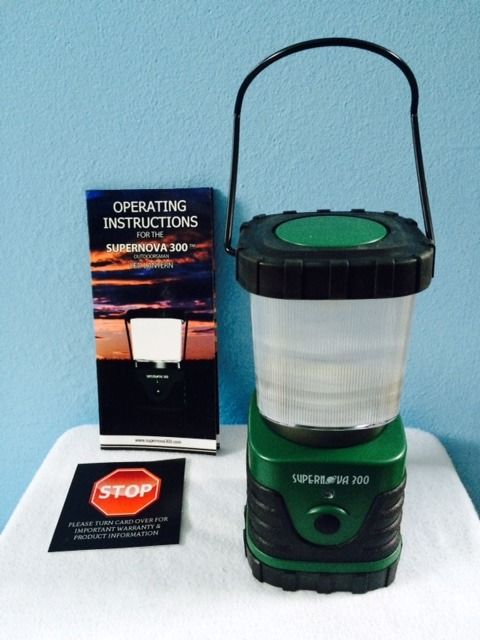 Before that happens having the right gadget for a camping would be ideal. It would be easier to have them all together set and ready. And because they will be only camping in your yard for now, it's best to only have those necessary gadgets to acquire, which is a camping lantern.
I'm lucky to say that I have the opportunity to review Supernova 300 Ultra Bright LED Camping Lantern today. The packaging is ideal, the product came in the mail via USPS and while going through it, I don't see any signs of product damage due to shipping. Content that I can use the item right away.
The size of the Lantern is just right. Perfect for a family size tent to light up the whole tent. It needs 3 D batteries to use the lantern, I was only hoping that a solar or rechargeable lithium battery would be much better than using 3 D batteries. The lantern is light weight. Very simple and quick to insert the 3 D batteries on the bottom part of the lantern.
Along with the product came an operating instructions booklet for the product. When I put the 3 D batteries, I was very impressed with the LED lighting. The Supernova lantern will allow you to cycle through all available modes it has. Low, High and Strobe - primarily for use as an emergency beacon. Now, if you don't want to go through all the modes powering on the lantern you need to fully depress and release the solitary button which can be found in the middle of the lantern. And powering off pressing the same button again will turn the lantern off.
The manual that comes with the product is very helpful and would give you more information on how to take good care of the Supernova 300 camping lanterns. It will also give you detail about the additional features of the product.
Overall, my experience with the LED camping lantern is wonderful. I am impressed by how bright it gets and how useful the lantern especially when you use this during camping. Gives you a bright light that you are looking for. A small product, but can provide a high and bright light. The LED bulb just makes it even better. I would say you can use the product not only for camping, hence for other activities you desire.
This is NOT a sponsored post, I did not receive any financial amount. I received the products for free in exchange of my honesty review. The outlook I expressed is 100% exclusively mine
.