Car Charger always comes in handy whenever we travel. We can always recharge our mobiles or tablets while we are on the road. I would like to acquire the kind of a car charger that would work and compatible with mostly unit so I don't need to buy different kind. One car charger for the whole family would be perfect.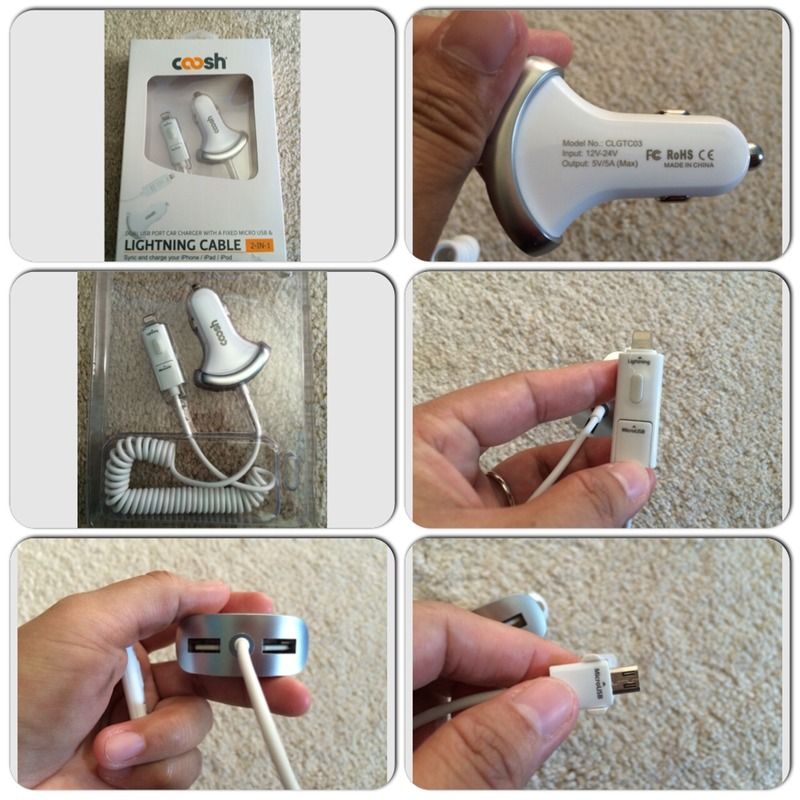 I'll be able to review a Dual USB Port car charger with a fixed micro USB and lightning cable a 2-in-1 car charger by Coosh. I've become a big fan of Coosh products because not only they have unique designs, their products were also durable and have great quality material.
The product came in the mail through the UPS. It was sealed in a small shipping box. I don't see any signs of shipment damage that I'd be able to use the item right away. Very eye-catching packaging, would give you the details you want to know about the product by simply reading the outside features.
When I plug the charger in our car, I've noticed a nice light green color that comes out of the phone plug. Very good at night, whenever you charge your device you can easily locate the charge device right away. I am fascinated with the micro USB as well as the other 2 more USB outlet for 2 more devices that can be charged at the same time. Syncs and charge to my iPhones and iPad too.
I love the design, comes very handy and just simply useful. I am happy and satisfied with the product. So far, I have no problems with the product, nor its quality.
It can be purchased through the Amazon website.
This is NOT a sponsored post, I did not receive any financial amount. I received the products for free in exchange of my honesty review. The outlook I expressed is 100% exclusively mine
.