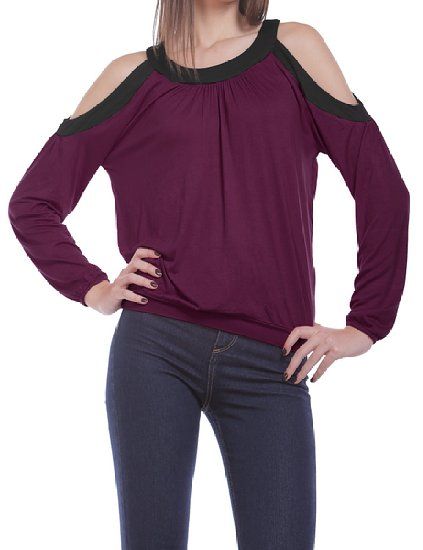 photo from Amazon
Product Description: [From Amazon]
·
Made in USA and Imported
·
Machine Washable (Recommended Hand Wash)
·
Doublju Womens Long Sleeve Off Shoulder Loose Fit Comfy Balloon Style Top
·
Features round neckline, exposed reverse seam placket, soft touched comfy stretch material
·
Super comfortable and easy to skin
My Review:
I have rated 5 Stars. I love the color and the fabric, it is very soft and it drops. Very light weight and I feel so comfortable with the quality too. The sewing of the edges is also in good quality. I don't see any rip, tear and the color combination of black and purple are really vivid, meaning what you see on the pictures is what truly is the color when you received the item.
I have Medium thinking it is too small for me as the sizing shows it is a size 4 but I'm glad I picked it because it is just right. I guess I am a size 4 and it is just what I want because I don't like a tight top. This fit as expected. Make sure you double check the sizing to prevent from returning and exchanging way.
For the List Price of $21.99, it is now dropping to Price of $15.97, and that would Save you $6.02 (27%), in which I find is a very decent price for such a nice top.
This is NOT a sponsored post, I did not receive any financial amount. I received the product with a heavily discounted price in exchange of my honesty review. The outlook I expressed is 100% exclusively mine
.