Now that summer season is finally coming, I am eager to take my kids biking. Even, if it's just around the place/area. My husband has given me my first and very one Mountain Bike for Mother's Day; I have requested him that I'd like to take the kids biking around the area even if I will utilize the old bikes we have in the garage. But fortunate enough, [I guess I have done something good] that he actually bought me a brand new last Mother's Day. An instant decision for him and so I go with him to buy me my bicycle.
We have our own helmet; well my son does have 2 in which I can use one in case he will use the other one. Since I don't have a mammoth size head circumference, it seems that the bigger helmet is just about size as my head.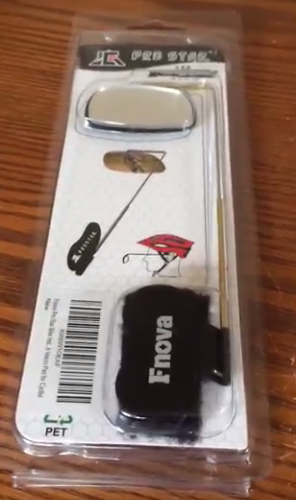 Today, I have the opportunity to review about the Bike Mirror, in which I find it very useful; especially that it helps you see the ones behind my back without actually turning my head. [Though, it's best to double check and turns your head when turning to make sure the accurate distance of a moving object behind].
The item arrived in the mail in a good condition, the packaging and the shipping seems to be good. I don't see any damage on the item that I was able to use it right away.
The mechanism is pretty basic, no tools needed as there is a Velcro that is already attached to the bike mirror itself. The item appears to be brawny and the metallic bar that holds the mirror and the Velcro seems to be durable. You have to aim the mirror and bend a little bit to position it appropriately. Once it is positioned, all you have to do is to make sure you have the right place to affix into the helmet.
There is a plastic that covers and protect the mirror so you have to eradicate it once you are all subtle. I like that it comes with 2 Velcro, which means I can use the mirror into 2 different helmets.
It is light weight and the quality looks like good. For the Sale price of $8.99, the Fnova Pro Star Bike Helmet Mirror with Flat Acrylic Reflective Surface &Fully 360°Adjustable & Metal Extremely lightweight Construction, Bonus with Velcro Pad for Cyclist can be purchased on Amazon.